The first international Digital Tools & Uses Congress is a multidisciplinary conference devoted to study the uses and development of digital tools. It aims at assembling five interrelated symposia: 1) Web Studies, 2) Challenges of IoT, 3) Recommender systems, 4) Archives and social networks, and 5) Digital Frontiers. The intention of this consortium is to approach a common object of study from different perspectives in order to enrich the discussion and collaboration between participants.
Each one of the congresses afore mentioned has already taken place separately. The endeavor is now to consolidate relationships that bring together theory and practice, technics and humanities, human and artificial agents, sciences and arts. Scholars and practitioners will gather in one place and learn from each other within an inviting environment, blurring boundaries between disciplines and schools.
For this reason, each one of the five independent symposia is presented below as a track of the Digital Tools & Uses Congress and will take place simultaneously during the three days of the congress.
We are thankful to the amazing partners and international colleagues that have accepted to accompany us in this endeavor. We expect this first edition of the Digital Tools & Uses Congress to offer a wide variety of insights and scientific developments at the crossing point of sciences and humanities.
Publication

ISTE London will publish accepted papers in the book of proceedings (PDF format, ISBN & DOI).

ACM will publish the proceedings of Web Studies 2 in the ACM Digital Library within its International Conference Proceedings Series.


A selection of best papers will be invited to publish extended versions in form of book chapters under the series Digital Tools & Uses at ISTE & Wiley (index by Wiley Online Library).
Latest books in the collection Digital Tools and Uses:
Important dates
• Paper Submission : 15 April 2018
• Notification to authors : 18 May 2018
• Camera-ready papers due : 30 June 2018
• Early registration due (Authors) : 1 June 2018
• Later registration due : 1 September 2018
Submission system
Please check each track for the preferred submission system. In any case, do not submit one same submission to multiple tracks. However, you can submit up to 3 different submissions in general.
Tracks and Subtopics
Web studies
Seeing through the web: tools, practices, and impacts
2nd edition of the international conference on Web Studies
Track chairs:
• Everardo Reyes (Université Paris 8, France)
• Mark Bernstein (Eastgate Systems, USA)
• Giancarlo Ruffo (Università di Torino, Italy)
InWoRS'2018
Cross points of view on Recommender Systems
2nd edition of the international conference Interdisciplinary Workshop on Recommender Systems
Track chairs:
• Gérald Kembellec (Cnam, France)
• Raphaël Fournier-S'niehotta (Cnam, France)
• Fatma Siala Kallel (ISAM Manouba, Tunisia)
Internet Of Things Challenges
Techniques, uses, ethics
3rd edition
Track chairs:
• Mehdi Ammi (Université de Paris Sud, France)
• Samuel Szoniecky (Université Paris 8, France)
CIBAHN'2018
2nd edition of the international conference on Libraries and Archives in the Digital Humanities Era
Track chairs:
Abderrazak Mkadmi (ISD, Manouba University, Tunisia)
Digital Frontiers
Digital influences, from communication to propaganda
5th edition
Track chairs:
• Hakim Hachour (Université Paris 8, France)
• Imad Saleh (Université Paris 8, France)
Call for Contributions
Call for Short and Long Papers
Call for Posters and Demo
Call for Online Exhibition
Committees
General Co-Chairs
Ghislaine Azemard : Head of UNESCO Chair in « Innovation, Transmission, Édition Numériques », Director of Idefi CreaTIC, Université Paris 8, France
Imad Saleh : Director of Paragraphe Laboratory, Universités Paris 8 & Cergy Pontoise, France - Member of ACM

International Scientific Committee of the Congress
Abderrezak Dourari : CNPLET, Alger, Algeria
Antonio Carlos Xavier : NEHTE, Universitade Federal De Pernanbuco, Brazil
Arnaud Regnauld : TransCrit, Université Paris 8, France
Aura Conci : Federal Fluminense University, Brazil
Bertrand Gervais : Chaire de recherche du Canada sur les arts et les littératures numériques, Université du Québec, Montréal, Canada
Brigitte Juanals : IRSIC, Aix-Marseille Université, France
Brigitte Trousse : Researcher in AI, Université Côte d'Azur, Inria, Sophia Antipolis & President of France Living Labs, France
Chen Yan : Director Institute of Art and Design, Beijing, China
Eric Sanchez : CERF, University of Fribourg, Suisse
Esma Aimeur : Groupes: HERON, GRITI, Université de Montréal, Canada
Giancarlo Ruffo : Università di Torino, Italy
Henda BEN GHEZALA : Directrice du laboratoire RIADI-ENSI, University of la Manouba (Tunisia)
Ioan Roxin : ELLIADD, Université de Franche Comté, France
Ioan Tabus : Signal Processing Laboratory, Tampere University of Technology, Tampere, Finland
Ion Smeureanu : Department of Economic Informatics and Cybernetics, Bucharest University of Economic Studies, Romania
James C.N. Yang : National Dong Hwa University, Taiwan
Jie Lu : Director of Center for Artificial Intelligence, Associate Dean Faculty of Engineering and Information Technology, University of Technology, Sydney, Australia
Johanna Drucker : Professor of Information Studies, UCLA, USA
Jussi Parikka : Professor in Technological Culture & Aesthetics, Winchester School of Art/University of Southampton, UK
Khaled Ghédira : Rector, Université Centrale, Tunisia
Khalid Mekouar : President of ESISA, Fes, Morocco
Mark Bernstein : Chief scientist of Eastgate, Boston, USA
Matthew Fuller : Professor of Cultural Studies, Goldsmiths, University of London, UK
Mauricio Vega Zafrané : Departemento de Diseno, Universidas del Cauca, Colombia
Okba Kazar : Smart computer science laboratory, Biskra University, Algeria
Omar El Beqqali : Faculty of Sciences D.M. U.S.M.B.A. - FES, Morocco
Pierre Gedeon : Lebanese Canadian University, Beirut, Lebanon
Pierre Lévy : Chair in Collective Intelligence, Ottawa, Canada
Rachid Chelouah : Ecole Internationale des Sciences du Traitement de l'Information, Cergy Pontoise, France
Renée Bourassa : Ecole de Design, Université Laval, Canada
Salim Hariri : Director of Autonomic Computing Laboratory (ACL), The University of Arizona (USA)
Serge Miranda : Université de Nice Sophia Antipolis, Nice, France
Shyan-Ming Yuan : Director, Library, National Chiao Tung University, Taiwan
Stéfan Sinclair : Professor of Digital Humanities, McGill University, Canada
Sylvie Leleu-Merviel : DeVisu, Université de Valenciennes, France
Theo Tryfonas : Director of PG Research Studies, School of Civil, Aerospace & Mechanical Engineering, University of Bristol, UK
Tuan Nguyen : Faculty of Computer Networks & Communications University of Information Technology, VNUHCM, Ho Chi Minh City, Vietnam
Yifan Li : President of the Beijing University of Graphic Communication, China
Yun Xiao : Director of New Media Technology & Application Computer Network Information Center of The Chinese Academy of Sciences, China
Venue & Registration
Venue
Université Paris 8 - Vincennes-Saint-Denis
2, rue de la Liberté
93526 Saint-Denis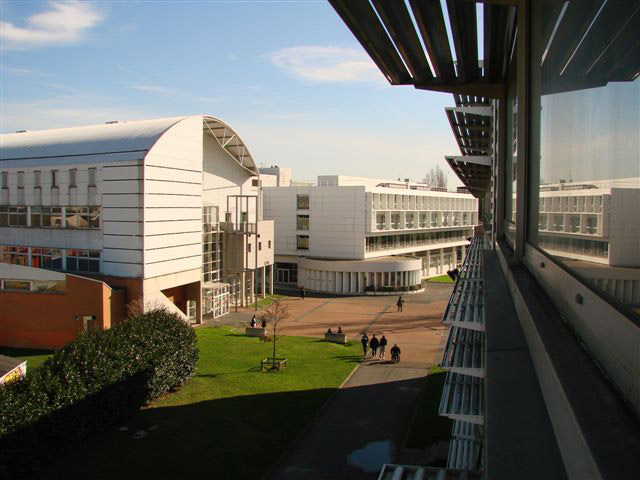 Archives Nationales
59 Rue Guynemer
93383 Pierrefitte-sur-Seine
Centre de Veille et d'Innovation - IDEFI CréaTIC
Tour Montparnasse, 33 rue du Maine, 5th floor
75015 Paris